The latest offering from Acer features a dual-core 1.5GHz Krait CPU, and pushes out an 4.3 inch HD display on Adreno 225 graphics.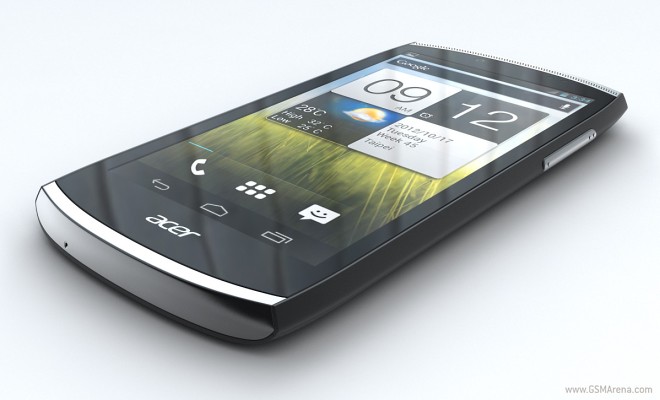 It's seems that this is quite a lot to ask from a 1460 mAh battery, but let's if it's up to the task.
Nowadays, most similarly-spec'd devices easily break the 2 Amp mark when it comes to battery backup, so seeing one this much lower makes us wonder if it'll be enough get you through the day.
Our talk time numbers seemed promising enough, and a rating of 9:05 was enough to put the CloudMobile in the top half of our chart.
Talk time
Motorola RAZR MAXX (ICS)

21:18

HTC Sensation XL

9:30

Nokia Lumia 710

9:05

Acer CloudMobile S500

9:05

Motorola Atrix HD

9:04

HTC Vivid

9:02

Pantech Burst

4:46
Web browsing wasn't as impressive, and we saw the S500 fall towards the bottom of the pack. An eventual Jelly Bean update will probably improve it's endurance, but you shouldn't expect miracles.
Web browsing
Apple iPhone 5

9:56

Meizu MX

4:35

Nokia N9

4:33

Acer CloudMobile S500

4:32

Samsung Galaxy S II

4:24

Sony Ericsson Xperia neo V

4:20

Samsung Galaxy Nexus

3:01
Video playback again leaves us wanting. If you plan on using the S500 as a media player, you'll get about 5:18 hours of continuous video viewing on a full charge.
Video playback
Motorola RAZR MAXX (ICS)

16:35

HTC Rhyme

5:23

HTC One V

5:20

Nokia Lumia 900 for AT&T

5:18

Nokia Lumia 900 for AT&T

5:18

BlackBerry Curve 9380

5:09

Nokia Lumia 710

3:27
Finally, standby performance was about average and the Acer CloudMobile scored an endurance rating of 30h.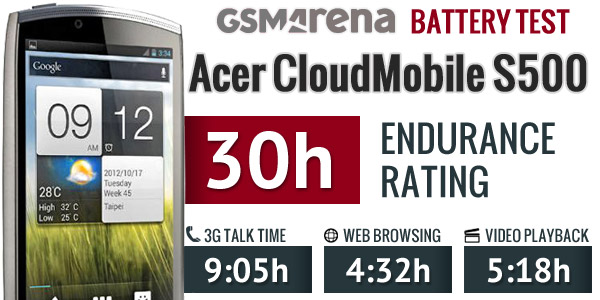 When all's said and done, the CloudMobile S500 will get you through the day, but only if you're sparing in your usage – particularly in video and web browsing. Here's hoping that next time around, Acer will consider beefing up the battery in what's otherwise a pretty great device