The Samsung Galaxy Premier is the latest in the line of Samsung droids to undergo out battery test gauntlet, and the dual-core 1.5 GHz device showed some great battery endurance – especially in regards to video playback.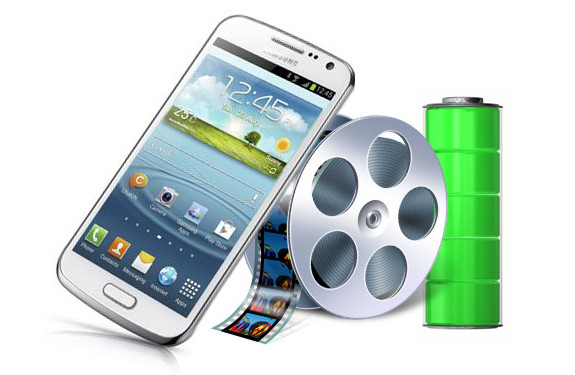 Lets take a look at how this mini powerhouse performs in other areas as well, including talk time and web browsing.
The Premier features the same 2100 mAh battery found on its older brother, the Samsung Galaxy S III, yet it only has to power half the amount of CPU cores . Understandably, we expected good battery performance, and we weren't disappointed.
We saw some good talk time figures, with the Galaxy Premier even slightly exceeding its manufacturer-rated talk time.
Talk time
Motorola RAZR MAXX (ICS)

21:18

Samsung Galaxy Note

12:14

Samsung I8530 Galaxy Beam

11:58

Samsung Galaxy Premier

11:30

HTC Windows Phone 8X

11:07

Samsung Wave 3 S8600

11:07

Pantech Burst

4:46
The Premier comes with Android 4.1 Jelly Bean preinstalled, which means great web browsing performance out of box. The Premier came in at 6 hours and 40 minutes of browser performance, which is better than what we got for the S III.
Web browsing
Apple iPhone 5

9:56

Apple iPhone 4S

6:56

HTC One V

6:49

Samsung Galaxy Premier

6:40

Motorola Atrix HD

6:40

BlackBerry Curve 9380

6:40

Samsung Galaxy Nexus

3:01
As we said, video playback is where the Premier really shines. It was able to keep going for just under 13 hours with it, which is better than even some tablets out there. We're not sure, but perhaps the PowerVR SGX544 GPU on the Premier is more efficient at decompressing video than the Mali-400MP on the Galaxy S III, which it outperformed by almost 3 hours.
Video playback
Motorola RAZR MAXX (ICS)

16:35

Motorola DROID RAZR MAXX

14:17

Apple iPad mini

12:51

Samsung Galaxy Premier

12:51

Samsung Galaxy Note II N7100

11:27

Apple iPhone 5

10:12

Nokia Lumia 710

3:27
Finally, standby performance is right on par with what you'd expect from a device with these specifications – it doesn't seem to be doing too many battery-draining activities while it's in standby. All of our tests give it a very respectable 51h endurance rating.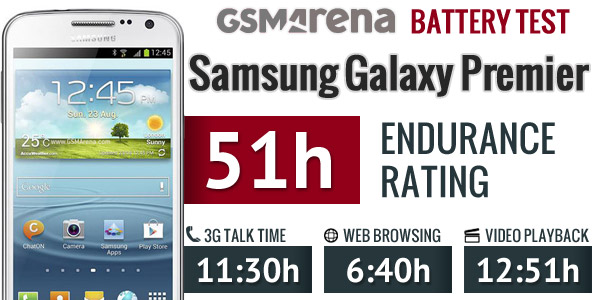 Ultimately, the Samsung Galaxy Premier showed some really good battery life, on par with what we've come to expect from this most recent lineup of Samsung Android smartphones. If you watch a lot of videos on your phone, it's easily among the best out there.