We've had the
Samsung Galaxy Core
for enough time now that we got see how good the battery of the affordable smartphone is.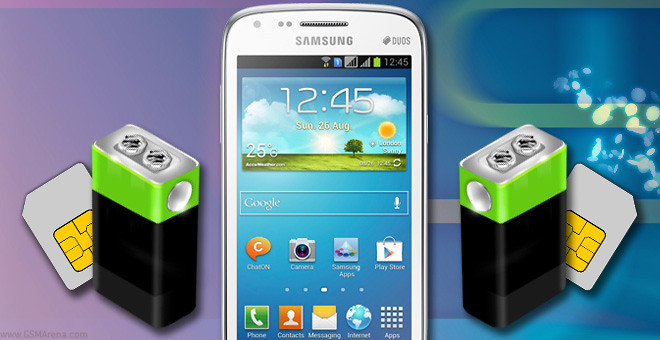 The Samsung Galaxy Core we have here on campus is of the dual-SIM variety which, in theory, should do worse than the single-SIM edition, having to power a second radio all the time. But is it really that bad? Find out after the break.
Now, the Samsung Galaxy Core comes equipped with an 1800 mAh Li-Ion battery, which needs to deal with those dual radios but also the Snapdragon S4 Play chipset and the 4.3″ WVGA screen. Those last two bits have proven to be pretty efficient, so the Galaxy Core is not without its chances to impress here.
The Samsung Galaxy Core managed almost 12 hours in the talk time test – 11:52 hours to be exact, which fairly good, considering that the low-power chipset and the screen can't help it at all here.
Talk time
Huawei Ascend Mate

25:12

HTC Butterfly

12:18

Samsung Galaxy Note

12:14

HTC One mini

12:04

HTC Desire 600 dual sim

11:58

Samsung I8530 Galaxy Beam

11:58

Samsung I8262 Galaxy Core

11:52

Samsung Galaxy Premier

11:30

Asus Padfone 2

11:20

HTC Droid DNA

11:07

HTC Windows Phone 8X

11:07

Samsung Wave 3 S8600

11:07

Pantech Burst

4:46
Web browsing is where the SoC and the screen do play a big part. The Samsung Galaxy Core lasted 6:54h, which was enough to place it in the upper half of our table and comfortably above the other dual-SIM smartphone we recently tested, the HTC Desire 600.
Web browsing
Sony Xperia ZR

11:20

Samsung Galaxy Grand Duos

7:09

Samsung Galaxy Express

7:09

Motorola RAZR i

7:06

Samsung Galaxy S4 (Octa)

6:58

Apple iPhone 4S

6:56

Samsung I8262 Galaxy Core

6:54

HTC One V

6:49

LG Optimus G Pro

6:40

Samsung I9105 Galaxy S II Plus

6:40

Sony Xperia L

6:40

HTC Droid DNA

6:40

Samsung Galaxy Nexus

3:01
And finally we come to the video playback test. The Galaxy Core didn't get to shine here, with its score of 7 and a half hours sending it lower down the ranks compared to the other two tests.
Video playback
Motorola RAZR MAXX (ICS)

16:35

Samsung Galaxy S III mini

7:46

Sony Ericsson Xperia neo V

7:45

Asus Padfone 2

7:38

Huawei Ascend P1

7:38

Samsung Galaxy S Blaze 4G

7:33

Samsung I8262 Galaxy Core

7:30

Sony Xperia ZR

7:30

HTC Droid DNA

7:30

Samsung Galaxy Note LTE

7:30

Samsung Galaxy Xcover 2

7:30

Sony Xperia SP

7:27

Nokia Lumia 710

3:27
When all is said and done and we combine the three results with the stand-by time of the Samsung Galaxy Core we arrive at a rather good endurance rating of 49 hours. That's going to be the interval between your charges if you do an hour of calling, web browsing and watching videos each a day.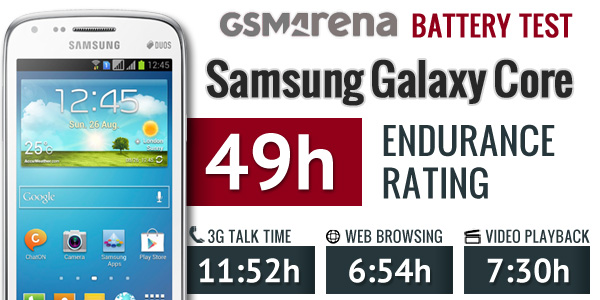 That's a very impressive result and points that the single-SIM Galaxy Core will get an even higher one because it doesn't need to deal with a second always-on radio. But even the dual-SIM Galaxy Core gets more than enough juice out of the 1800 mAh juice pack.