Article Cited from
digitalspy.co.uk by Smartphonebay.net
How big is too big? This is the question we repeatedly asked ourselves when putting the
HTC
One Max review together.
At the moment, the only smartphone that really bests it in the screen size department is the
Samsung Galaxy Mega
, with the
Note 3
actually boasting a slightly smaller 5.7-inch display.
Unlike the Note 3 however, the One Max is really more just a bigger version of the One, but with a fingerprint scanner. There is no included smart pen. So is it any better than HTC's already impressive One? Or is this just a phone for those with a big screen fetish?
Hardware and Design
As was the case with the HTC One, design and feel of the Max is absolutely top notch. This is one of the best built Android phones available right now.
Like the One Mini, there is now a white plastic wrap around the edge of the phone. Unlike the One Mini, it's matte plastic, rather than gloss. We prefer it.
The back is also removable here, and you can insert a microSD card into the phone should you want to expand its memory. Irritatingly though, it's impossible to remove the battery. The phone feels solid, but it's not quite the airtight package of the HTC One.
Ergonomics have changed quite a bit with the Max in order to make the phone more useable due to its size. Now the lock button is on the right-hand side of the screen, so you can use your thumb to lock and unlock the device.
Alternatively you can use the included fingerprint sensor to unlock the phone, which sits just below the camera. It's an interesting place to put it, as a lot of the time you end up putting greasy fingerprints on the camera lens, rather than swiping your finger on the sensor.
Just a note on the fingerprint sensor as well - unlike the sensor found on the
iPhone 5S
, you need to swipe your finger down across the sensor to use it, rather than place it on it. In practice, we found it actually worked better than Apple's solution.
Our particularly small hands appear better suited to the ergonomics of the One Max's fingerprint sensor. Other users of the phone are reporting it far less accurate and simple to use than the 5S, so if you have larger fingers, then perhaps give it a test yourself.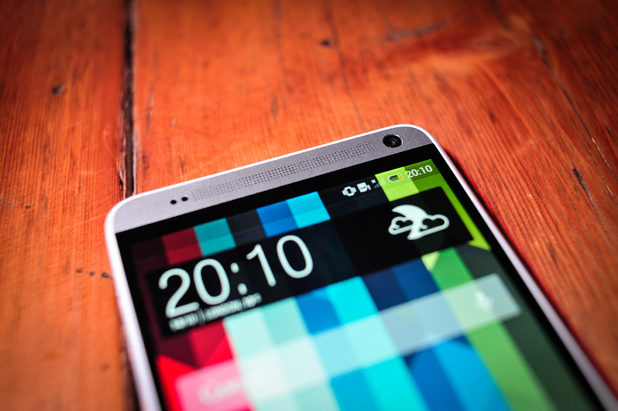 HTC has also made a more clever use of the fingerprint sensor than Apple. It can remember a maximum of three fingers, but each individual finger can trigger a specific action, so your index finger could open the camera, while your middle finger opens Spotify. Once you get used to it, it's a very handy feature.
Now to the real talking point - that beautiful 5.9-inch screen. Basically, it's a scaled up version of the display you find on the HTC One. It is Full HD 1080p and has 373 ppi to play with. In practice, it's as sharp as you would ever want, boasts fantastic viewing angles and is bright as anything. If you like your screens, then you aren't going to be disappointed here.
We will say that it doesn't come across quite as sharp as the smaller Galaxy S4 and HTC One, but it's really not noticeable unless you hold the phone right up close to your face.
The same micro-drilled BoomSound speakers are on either side of the screen, and are just as impressive. You also get the Ultrapixel camera unit found on the HTC One, which works even better when you have a big screen to frame photographs on.
Processor and power fans will be disappointed to hear that the One Max doesn't use a Qualcomm Snapdragon 800 processor. Instead, it features a quad-core 1.7 GHz Snapdragon 600 and 2GB of RAM. In the power stakes, the
Note 3
bests it on paper. In real world usage though, differences are very rarely apparent.
One significant change to the One Max design from the rest of the HTC range is the inclusion of a set charge point on the back of the phone. Inside you get a 3,300 mAh battery with the option to buy a 'Kickstand' charge case that adds an extra 1,200 mAh. The result is a phone that easily lasts a day under intense usage, despite the screen size.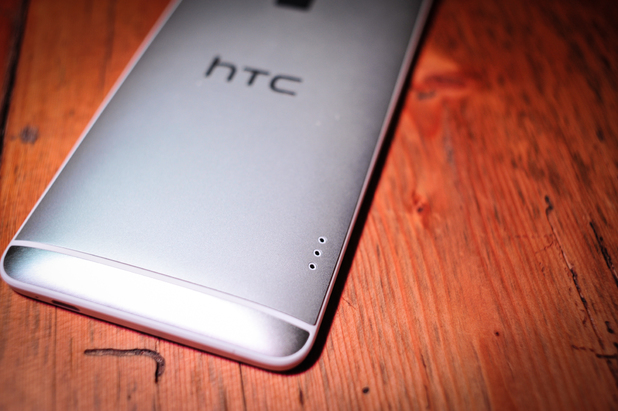 What draws us to the One Max is its screen. Having got used to the Note 3, we aren't hugely bothered about carrying something this size round in our pockets. The phone is 164.5 x 82.5 x 10.29mm and weighs 217 grams, so doesn't feel huge. It's massive screen does however have that 'break me' feel to it, so investing in a case to protect it seems wise. Even more so when it can boost battery life.
The bottom line is that this is a big phone, but it isn't so huge that size becomes a major problem. If you don't mind sacrificing the pocket space, then the One Max might be the best phone in HTC's lineup, in terms of build at least.
Camera
HTC has made a big fuss over its UltraPixel camera, so we figured an explanation of the tech was due. Basically, rather than going for a high megapixel count, instead you get just four megapixels to play with. The difference is that they are larger, and the lens in front of them boasts a faster aperture than most smartphones.
At f2.0, it's well suited to low light. The lens on the Max does however lack the optical image stabilisation found on the HTC One, which is irritating. The front facing 2-megapixel camera is impressively wide and well suited to video calling.
Results from the UltraPixel sensor vary. They aren't a scratch on what the Lumia 1020 can do, but are certainly up there with the best. On the phone's screen, the low megapixel count isn't apparent, but blow them up to the larger screen and it does become obvious. Still though, the majority of people view photos on their mobile, so the 5.9-inch display here is better than most.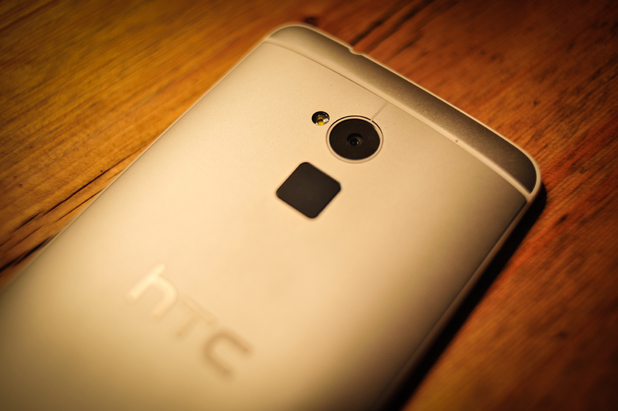 A number of camera tweaks are new to Sense 5.5, which makes its debut on the HTC One Max. The 'Zoe' camera, which helps automatically create photo and video highlight reels of a day's images, has now been tweaked.
Zoe can instantly create GIFs, which is a fun addition. It can now also create and edit highlight clips to whatever length you choose, as well as select different music and themes for the videos.
The gallery app has been slightly re-done as well, so the highlight videos are kept on a separate tab, while full length photos and videos can be browsed easier.
The photographic experience on the HTC One Max is very good. The lack of Optical Image Stabilisation is a shame, but in practice you won't notice it a huge amount. It's the user interface, coupled with the flexibility of the Ultrapixel unit, that makes things stand out here. Oh, and the super-wide front-facing unit makes for a perfect selfie cam.
User Interface and Software
HTC is one of the few Android manufacturers that we feel really brings something extra over the standard Nexus experience. Sense 5.5 feels genuinely worth having.
Blinkfeed, which is HTC's way of aggregating social media and feeds together, has been reworked slightly for the One Max. It can now be customised to show search results from one single search term - say, Formula One, for example. It also gains the ability to integrate RSS feeds, which was long overdue.
Instagram and Google+ integration makes Blinkfeed feel even more complete. Really, it's the ultimate one-stop shop for all your smartphone activity. It isn't for everyone, however, and we did find ourselves often diving into individual apps to get more info about a Facebook post or a news story.
Sense 5.5 and the HTC One Max feel like a nicely stripped back and streamlined user experience. There is minimum clutter on the home screen from the moment you turn the phone on, while widget overload, a trait of most Android handsets, isn't present either.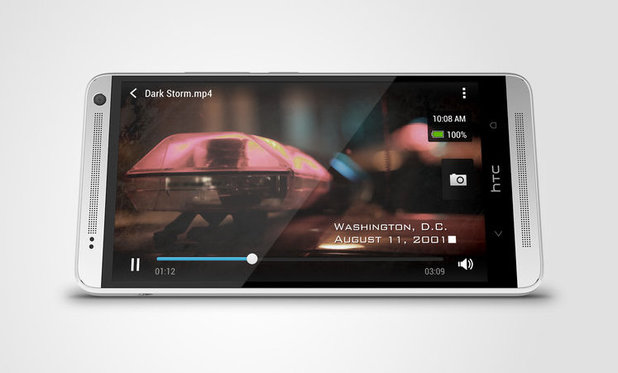 If you have used the HTC One, or One Mini, you will find that Sense is largely the same here. For us, it's our favourite way to use Android, perhaps even over something like the Nexus 4. Paired up with the bigger screen on the One Max, it looks especially good.
Setup out of the box is simple, and it's even possible to use Bluetooth to transfer contacts and information over from an iPhone to the One Max.
Unlike the HTC One, 50GB of free Google Drive storage is included with this phone. We prefer Google's service, so this is a big bonus.
There are some slightly counter-intuitive elements to the One Max that we do feel need mentioning. A double press of the Home button brings up Android's multi-tasking screen. Killing apps here requires you to swipe them away individually, not unlike iOS 7. We would've liked to see a 'kill-all' switch included.
Then there is the notifications and quick switch bar found when you swipe down from the top of the phone screen. It's customisable, but isn't as simple as the left and right scroll of older versions of Android.
Our main beef with the HTC One Max UI is the way you customise your home screen. On a display this size, asking you to drag an app up to the 'shortcut' link at the top of the menu page, in order to place it on your home screen, is very annoying. Basically, our thumb wasn't long enough to do it.
Sense is all about customisation, you can get rid of Blinkfeed if you want, or just use it for Facebook. HTC's done a great job making things look slick, while keeping them easy to use and understand. Our favourite Android UI? It might just be.
Music and Movies
The most obvious bonus for movie watching is that 5.9-inch, 1080p display. Simply put, it's a corker. This One Max is now our favourite phone for watching iPlayer on the bus ever. It's got great viewing angles, is more than sharp enough and is plenty bright.
The quality of music from the front-facing speakers is good enough to eliminate the need for a Bluetooth speaker to fill a room with movie audio, so it's nice for watching a quick film in bed.
As for apps, you have all the usual Android selection to enjoy. Google Play has movies and music well and truly covered now, so don't feel like you are going to be left out for things to watch.
The competition
Without a doubt, the Note 3 is the biggest competitor to the One Max. It's a very nice device, and received
a four-star review
from us. If you want proper smart pen or 'S Pen' control, then the Note is the thing for you.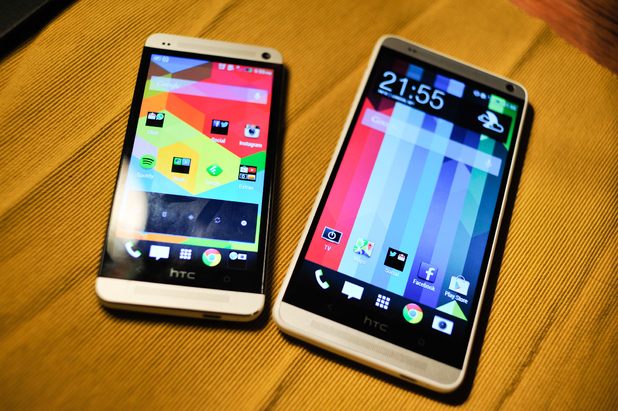 HTC's One Max however is better put together and we would argue, has a more balanced and accurate screen. It can't match the Note 3 for vibrancy, however.
Really though, it's up to you. The choice is build and screen vs pen and plastic. If it were down to us, the One Max would be our choice.
Verdict
We really like the One Max, but then we really like the HTC One as well. It's a big old thing and the fingerprint scanner, however useful, isn't exciting enough to make it warrant the One Max purchase over the standard One.
This is the phone for those who like what HTC are doing, but want a little something extra from their screen. It's a cracking device and deserves the same level of credit that HTC got for its One release earlier this year.
The only let down is the processor spec and the positioning of the fingerprint scanner, which is a touch off for those with bigger hands.
It's nice to see HTC enter properly into the big phone market now. We just hope it scales things up to tablet size, as the new look Sense lends itself perfectly to something even bigger.


Read more: http://www.digitalspy.co.uk/tech/news/a523415/htc-one-max-review-a-samsung-galaxy-note-3-beater.html#ixzz2hmaovUVw
Follow us: @digitalspy on Twitter | digitalspyuk on Facebook